PPD Phase I Clinic – Austin, TX
Type of Clinic:
Primarily Healthy volunteer studies + Dental Clinic
In-Patient Capacity: 
300 +
Web Links
Website:http://www.ppdi.com
Current Studies: http://www.ppdi.com/study_volunteers/current
Social Media:
Twitter
Company Info:
Pharmaceutical Product Development
A new 24 bed unit will be opening in Las Vegas this summer!
Photos: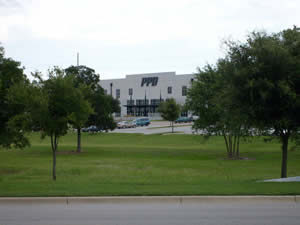 Screening:
Many screenings will be for following week. So be prepared to screen within 4 to 7 days of calling.
Due to the large volume of studies, it is possible to get same day screenings as well.
PPD has two primary screenings.
The 1st one is for the reading of the informed consent and lab work and the 2nd is for the physical.
The 2nd screening can be a few days after the first or up to the day before check in.
This needs to be taken into consideration when planning to come in from out of state.
PPD will do last minute screenings, like screen on Monday, physical on Tuesday and check-in on Wednesday. It just depends on how the previous screenings went.
Depending on the study, there may be additional screening visits required ie for holter monitors, eye exams etc.
If study fills before all screenings have taken place, your screening may be cancelled.
Volunteer Amenities:

Big Screen TV
Cable
Satellite
DVD Player
Board Games
Pool Table
Movie Library
Quiet Room
Computer Room
Rec Room
TV Room
Activities like crafts, bingo or tournaments
Multiple recreation, TV, quiet and computer rooms. 1 pool table per section. Some board games available. Usually plenty of books and magazines. Clinic is next to airport so you can watch planes land and take off. Mostly land.
There is an activities director who facilitates several structured activities each week like pool tournaments, bingo and arts & crafts. Local newspapers and several magazines are delivered. Once you are in the study, you will get a clear, plastic 1 liter water bottle. Once you finish the study, you usually have your choice of a T-shirt or a small backpack as a souvenir but is really just an advertising tool.
Internet Access:
Public Computers w/Internet
Public Computers w/ no Internet
Each area has up to 15 public access computers.  Recently upgraded to newer computers.  Wifi can be slow on the weekends or when large groups are in house.
Housing:
Semi-Private (4 or less)
Dorms (5 or more)
There are 3 sections to the clinic and each section is inaccessible to the others.  There is one hospital style dorm mainly for heart monitoring and procedure intensive studies.  The other two are higher capacity dorms with 8 to a room.  Most beds in the dorms have individual electrical outlets.
Parking:
Limited On-site (Park at your own risk)
If you are screening, you can park in front of the building in designated areas painted on the ground.
If you are checking in for a study, you cannot park your car in the lot in front of or behind PPD.
Study participants must park in the upper parking lot, past the main building and up the hill.
Shuttle service is provided.
While there is roaming security on the upper lot, there have been break ins and vandalism.  Do not leave any valuables in your vehicle and if at all possible, do not leave your car on long studies.
While it would cost a bit of money, consider parking at one of the airport parking lots nearby.
Food:
Prepared in house.  7 day menu for standard diet.  Good quality meals.  Many people like the zucchini bread and they'll give you the recipe if you ask.
Payment:
For short stays of 10 days or less, you will typically receive your money in a lump sum in the mail once the study is completed. For longer single stay studies, you will typically get most of the money on your last check out and the rest in the mail about two weeks later. For longer studies that are broken up into multiple periods, you will typically but not always, get a few checks, usually starting with your second and on stays and the rest in the mail once you complete the study.
This is not guaranteed! This is just the way it's been so far but the polices can always change. According to PPD written policy in the informed consent, they reserve the right to issue payment within 3 weeks of completion of study, so it is a courtesy that they offer multiple checks when time constraints allow.
Attire:
PPD provides color coded T-shirts and pants scrubs.  You are only required to wear the color coded T-shirt so you can wear your own bottoms.  You may wish to bring your own pants and sweat shirts.  It is cold up there!  Bring sweatshirts and a blanket if your not used to living in the arctic.
Camera Policy:
Before checking in, staff will apply tamper-evident tape over cameras of cellphones, tablets and laptops.  If you remove the tape, it will be evident and you can be fined, have your device taken away and or be banned from future studies.  You must show up at least 30 minutes before your scheduled check-in time to have the tape applied.  If you do not show up in time, it may take a day or two to get your device brought up.  PPD takes the camera issue very seriously so don't mess with the tape!
Laundry:
Provided on studies longer than 1 week.  They will wash and fold your laundry 🙂
Public Phones:
No more pay phones.  One courtesy phone for local calls in each section
Additional Information:
The clinic conducts a large volume of studies ranging from short multi stay to long 30 day single stay studies.  Lots of out of town people come to Austin for the large studies while college students fill in the weekend studies.
*Children are not allowed inside the clinic whether you're there for a screening, repeat or out-patient even if there is someone to watch them.
PPD has a video about their clinic geared towards both potential volunteers and prospective pharmaceutical clients.
Location and Contact Info:
PPD
7551 Metro Center Dr
Suite 200
Austin, TX 78744
(Click here for map)
Dental clinic is located about 200 feet to the left of the main entrance.
Telephone Contact Numbers For Signing Up For A Study:
(24 Hour study recording)
Text Alerts: Text 'PPD' to 48121 to receive updates from PPD
Message and data rates may apply
| | |
| --- | --- |
| Sunday | 9:00 AM - 1:00 PM |
| Monday | 7:30 AM - 5:30 PM |
| Tuesday | 7:30 AM - 5:30 PM |
| Wednesday | 7:30 AM - 5:30 PM |
| Thursday | 7:30 AM - 5:30 PM |
| Friday | 8:00 AM - 5:00 PM |
| Saturday | 9:00 AM - 1:00 PM |